Wholehearted NLP Practitioner Trainings...
Want to deepen your knowledge of NLP professionally and/or personally, training in one of the most useful, empowering practices out there?

Want to train as an internationally recognised ABNLP NLP PRACTITIONER whilst contributing to the world wholeheartedly?

Wonderful for anyone who wishes to...

Deepen relationships, increase well-being, improve business & sales, enhance communication, let go of unhelpful habits, gain deeper understanding and compassion of self & others...

Use personally, add to current skills as a coach/therapist/teacher/entrepreneur or create a meaningful career change.
​
​
Testimonials 2017: Meetup members, workshop participants and past clients.


TRAINING OUTLINE*

MODULE 1: (15th-18th January 2018)
Day 1 - HOW WE CREATE OUR REALITY:
What is NLP? History, Communication Model, Unconscious Mind, NLP Model of Change, Goal setting, Representational systems

Day 2 - UNDERSTANDING OURSELVES & OTHERS:
Meta Model (Language Patterns), Sensory Acuity, Rapport, Calibration, Eye-Accessing Cues (Patterns), Intro to Strategies, TOTE Model

Day 3 - BEHAVIOURAL CHANGE:
Strategies (continued) Milton-Model (Language Patterns), Sub-Modalities, Swish Pattern, Like To Dislike, Sub-Modality Belief Change

Day 4 - HOW TO MANAGE EMOTIONAL STATE:
Anchoring (Resource, Stacked, Chaining, Collapsed), Circle Of Excellence, Metaphors (homework exercise)




MODULE 2: (5th-8th Febraury 2018)
Day 5: COMMUNICATING WITH THE UNCONSCIOUS MIND & HOW TO SHIFT PERSPECTIVE:
GROUP PRESENTATIONS (METAPHORS), Re-framing, Hierarchy of Ideas, NLP in Business... 5 Step Sales, Successful Meetings, Handling Objections, Intro to Parts

Day 6: RESOLVING INNER CONFLICTS, DEEP ROOTED BELIEFS & EMOTIONS:
Parts Integration, 6 Step-Reframe, Elicit Timeline, Removing Limiting Beliefs & Emotions in a Timeline

Day 7: PHOBIAS & HEALING PAST HURT
Phobia technique, Perceptual Positions, V/K Dissociation, Goal in Timeline

Day 8: WHOLEHEARTED NLP
Additional Techniques To Master Emotional State, The Essence Behind Everything, Tips To Become A Successful Wholehearted NLP Practitioner, BREAKTHROUGH ACTIVITY, CERTIFICATE & GRADUATION CEREMONY

*All topics above will be covered and more... sequencing of topics and activities may vary depending on group size.
​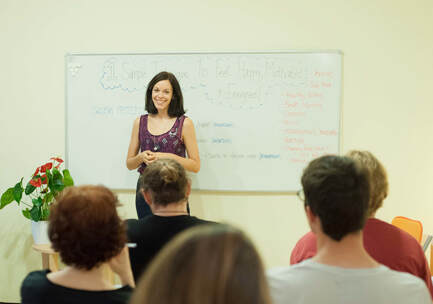 ​"My previous encounters with NLP coaches where frustrating, most of them were passive aggressive and weren't on the top of that "supportive self-confidence building" game. Because of that, I had many prejudices every time I was in company of NLP coaches... and then I meet Emma. Something completely different. Extremely nice person... she has some Dalai Lama calmness and wisdom, uses practical methodology, good listener and her workshop was amazing. The most important thing, the whole group that day during her workshop had fun and more than a few laughs. She killed my prejudice so thanks to her I'm more open to hear what people have to say about NLP"

MM Workshop Participant July 2017
​MORE INFO...
Evaluation...
In order to qualify as an ABNLP (Internationally respected American Board of NLP) certified NLP Practitioner on this training the following steps are required...
All training days from both modules must be completed and demonstration of understanding of course material will be evaluated during training.
30 hours of meetup attendance will be required (FREE attendance).
30 hours home study including one case study.
Completion of written integration exam by end of second module.
​Continued Support...
All Wholehearted NLP Graduates will have exclusive access to a private online NLP Community for ongoing support and guidance.
FREE repeats and FREE meetup attendance...
​All NLP Practitioner graduates are welcome to repeat the full Practitioner training for FREE any time there is another training (provided there are spaces available). A chance to deepen even further NLP skills and knowledge with guidance. Also 30 hours worth of meetup attendance is also given for FREE to all those on the NLP Practitioner training to form part of course evaluation requirements.
How This NLP Training Is Different...
I believe in creating positive change, supporting those in need and using NLP ethically, wholeheartedly for the highest good of all. That's not to say other schools and trainers out there don't believe and act according to these values too, many do... it's just using NLP with heart is my main priority and focus. I believe with every cell of my being to create a positive impact in this world we need to take a look within too as well as supporting others. More on what Wholehearted NLP means
here
.
NLP is a valuable, useful, practical and insightful series of tools, techniques and way of life. It can empower, help us find answers and most of all give us strength and resilience during challenging times. It takes us out of the victim box and empowers us to peel back the layers in remembering our true self. By completing this training you will be a fully qualified NLP Practitioner.
​
Giving back to the community...
You can also relax in the knowledge that by investing in this training not only are you supporting yourself and others that you interact with, you are also contributing to communities in need directly. Currently a small percentage of every practitioner course payment received will be split directly between these three charities* that I feel are doing great things to support individuals and our beautiful planet...
​
The Nature Conservancy

This planet, our home is in serious need of support, protection and rehabilitation. Whilst we can all do our part in leaving as little trace as possible, reducing waste and mindfully consuming products... a little extra support to a well respected fund such as The Nature Conservancy can create wonderful change.

​Band of Brothers, UK

Not only do I coach women, I have also coached many men over the years with NLP who were looking for emotional support. I have also personally struggled hearing news of friends giving up their lives because the emotional turmoil became to much. To date men are still more likely than women to commit suicide and I believe supporting young male emotional well-being is so important. Band of brothers is a UK based organisation that supports young men in rebuilding their lives.

Lend With Care, International

It can be challenging to set up a business in a developed country, and I can't imagine how hard it must be to build a business in a developing country and support a family too. Lend With Care offers entrepreneurs in developing countries micro loans to help create a sustainable long lasting future for them and their families.
*Confirmation of donations are available upon request for course participants.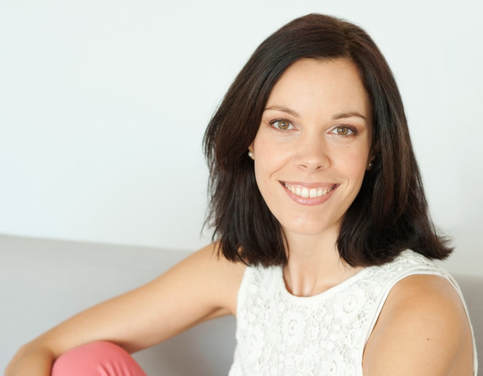 ​​"Emma has a great understanding of NLP, and is able to transfer this skill and knowledge effortlessly in her style of teaching. Her approach and character shine through both of which allow learning to happen, without you even realising. It was a joy to be part of her workshops and found them to be of great value.
I would jump at the next opportunity I am geographically nearby"

KS Meetup Participant July 2017
​

​"Emma explains and teaches NLP in a very simple way that makes it easy for everyone to understand it's uses in everyday life. She's passionate about it and her enthusiasm is contagious. She demonstrates how simple NLP techniques can improve just about any aspect of our lives. I would absolutely recommend Emma for any NLP session or training - she's a great teacher with lovely vibes"

AO Meetup Participant June 2017
​This is for you if you...​
Want to learn all of the above training content
Want to feel empowered and resilient in your life knowing how to create deep change
Desire to deepen your awareness about yourself and others
Wish to take part in one of the most valuable self-awareness courses out there
Wish to use this for yourself and/or change career and become a Wholehearted NLP Practitioner
Wish to add to your current qualifications and benefit from the diversity and value NLP can offer
Wish to use NLP with heart for the highest good of everyone
And so much more!
What this is not...
Get rich quick scheme.
​Way to set up a quick coaching business without having to do any inner work (being the best supportive coach does require looking within too!)
Way to manipulate and take advantage of people. That completely goes against Wholehearted NLP values and is not what I teach.
**NEW DATES**...
Module 1: Monday 15th January 2018 - Thursday 18th January (10H-18H)
Module 2: Monday 5th February 2018 - Thursday 8th February (10H-18H)
​
(short morning and afternoon breaks plus 1 hour lunch break will be given each day... refreshments provided though food not provided)
​
Price...
Currently for just €1150 (including VAT!) you can qualify as a certified NLP Practitioner on this training (Practitioner trainings at other schools usually priced at €1450+ for 7 days). This is a special one off price for the New Year, the next training prices may vary. Payment can be made in full or in blocks as follows...
€150 Non-refundable deposit (before 15th December 2017)
€550 Module 1 (before 1st of January 2018)
€450 Module 2 (before 15th of January 2018)
**ALL MODULES must be completed in order to qualify as a certified ABNLP NLP Practitioner**
​
Location...
Calle Canuda 26, 2-1. Just 2 minutes from Plaza Catalunya metro stop, Barcelona.