Live Webinar!
Live Facebook seminar in 'Compassionate Inner Light' Facebook group. Join us
here
to hear all about how to manage and reduce anxiety.
Transformational Workshops & Classes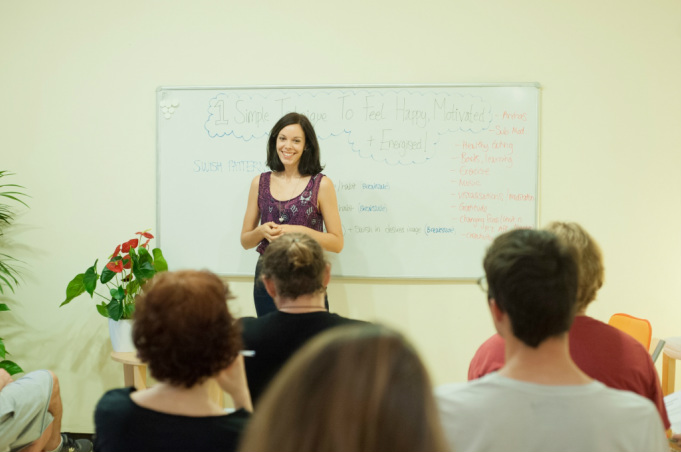 '1 Simple Technique To Feel Happy, Motivated & Energised' one of the many NLP classes in central Barcelona
Classes In Central Barcelona
For specific dates, email
info@emmabradford.net
or RSVP directly
HERE
.
Regular Topics Covered...
Connecting to and Understanding others with Mirroring
Introduction to NLP with Goal Setting
NLP and Motivation
Limiting Beliefs: How To Find Hidden Limiting Beliefs
Limiting Beliefs: Museum of Old Beliefs
Anchoring: Circle of Excellence + Magic Shoes
Inner Conflicts - Verbal Parts Integration
Food Cravings - Like to Dislike exercise
Introduction to Body Language & Building Positive States Using the Body
Understanding Physical Symptoms using Sub-Modalities
Monthly Visualisation - Increase your levels of self love and acceptance
Introduction to Metaphors - Unlocking The Solution Within
Swish Pattern - Changing State Easily & Effectively
How to Build rapport - Improving Both Personal & Professional Relationships
Monthly Visualisation - Body Image - Increasing Self Acceptance and Esteem
Meta Model - How to Loosen Limiting Beliefs and Clarify Imprecise Language
Eye Movements & Synesthesia - How to Tell What Somebody is Really Thinking
6 Basic Human Needs - Why You Do What You Do: Understanding Ourselves & Others
Keep That Holiday Feeling With Sliding Anchors
And much more...
(*Excludes fiesta days)
​